Thursday, May 26, 2005 - Saturday, June 4, 2005, 8pm, 2005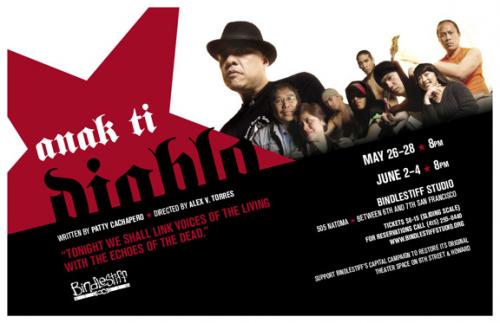 ANAK TI DIABLO, an Ilocano term for Children of the Devil,
is the name of a Pinoy punk rock band in Daly City who is
about to claim their identity as true rock artists of its
generation. Loosely adapted from Plautus Haunted House,
playwright Patty Cachapero sets in motion this zany
dramedy with characters rich in comic frivolities and soap
opera twang. It tells the story of Anak ti Diablo, the Pilipino-
American punk rock band who gets entangled with a
neighborhood loan shark, an absurdly pious Catholic mother,
a barrio fiesta beauty pageant wannabe and a self imposed
rock artist-guru. The play's action is energized when the
characters break into thrash metal riffs and sweet Rondalla
tunes to exorcise ghosts of the past and summon the spirits
of colonial history. In the end everyone rocks out. Cast
includes Rose Almario, Pio Candelaria, Eric Fructuoso,
Werner Goff, Joel Merchan, Jamie Nallas, Francis Novero,
Jose Saenz and Golda Supanova Sargento. Set Design by
Dino Ignacio and music by Ogie Gonzales.
ANAK TI DIABLO Written by Patty Cachapero and Directed
by Alex Torres May 26-28 and June 2-4, Thurs-Sat Tickets
are $8-$15 (sliding scale) 8pm at the Bindlestiff Alley, 505
Natoma on 6th Street between Howard and Mission.
For ticket reservations, call (415) 255-0440 or
info@bindlestiffstudio.org
or visit
www.bindlestiffstudio.org
.
Support Bindlestiff in its Capital Campaign to rebuild its
original theater space on 6th & Howard
BINDLESTIFF STUDIO is a not-for-profit arts organization
serving as an epicenter for Filipino American arts since 1997.
Its mission is to cultivate emerging and established artist
who reflect and celebrate the diverse values, traditions and
histories of the Pilipino/Filipino-American culture through
bold artistic expression. Bindlestiff provides a permanent,
community-based performing arts venue dedicated to
preserving and sharing Pilipino/Filipino-American culture and
to redefining the boundaries of social and artistic expression
through creative risk-taking.
for more visit http://www.bindlestiffstudio.org