Thursday, July 28, 2005 - Saturday, July 30, 2005, 8-10pm, 2005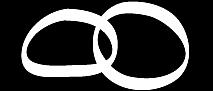 "The Banana Fairy" (Mutya ng Saging) is an adventurous
look at one man's journey into the depths of Philippine
folklore. Philip, an American, discovers the legend of a
mysterious amulet that holds tremendous powers and good
fortune, the anting-anting.
Enticed by the stories of old by local villagers, Philip
embarks on an adventure that brings him into the darkness
of the Banana Tree Jungle where he sets out a quest to find
this banana fairy. But to the foreigner's shock and horror
appears the guardian of this mystical jewel, the beastly
creature known as the Kapre. Will his urge to possess the
banana fairy succeed? Or will the towering Kapre, control
Philip's destiny?
Revival Arts Productions is also proud to announce a
dramatic presentation of select readings of one of today's
most inspiring and introspective writers in the Filipino-
American community, Oscar Penaranda. Our ensemble cast
of actors, dancers, and musicians allow their artistic
_expression to transcend the deeper meanings of
Penaranda's works.
Revival Arts Productions' mission is to entertain audiences
and impact the Theater Arts by bringing life to Filipino-
Authored plays.
"We believe it is very important that Filipinos overseas are
made aware of the legacy of their Filipino compatriots. We
commend RAP for promoting Filipino plays"
-Joaquin Family (family of the late Agapito Joaquin,
playwright of the critically acclaimed "Tin Roof")
The Banana Fairy, Ang Mutya ng Saging,
A Play in Two Acts by
Leoncio Deriada
And
Tribute to the Works of Oscar Penaranda
Featuring Selected Readings from his books, Seasons By
The Bay and Full Deck
When:
July 28-30 Thursday thru Sat
8 -10 pm
$8 - $10 Sliding scale
Where:
Bindlestiff Studio, the epicenter of Pilipino/Filipino American
Arts.
505 Natoma St.
San Francisco CA 94103
(415) 255-0440 for Reservations
www.revivalarts.org
www.bindlestiffstuio.org
Contact: Richgail Enriquez -
rgnenriquez@revivalarts.org
Noli Magsino, Jr.
nmdhatter@aol.com
Maggie Suarez
maggie_suarez@yahoo.com
for more visit http://www.bindlestiffstudio.org