Saturday, September 10, 2005 - Sunday, September 11, 2005, 2005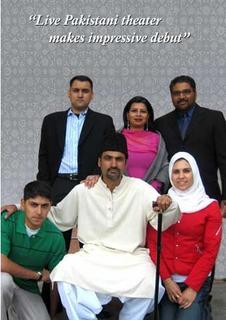 ABOUT DOMESTIC CRUSADERS
To honor the fourth anniversary of September 11, there will
be two performances of The Domestic Crusaders, a full-
length play by Muslim American writer Wajahat Ali.
This fully staged showcase production of The Domestic
Crusaders is directed by author and theater scholar Carla
Blank, and produced by the MacArthur "Genius" Grant
Recipient and internationally prominent author, Ishmael
Reed. Performed by members of the Bay Area's South Asian
community, it offers the public an extraordinary look into the
everyday lives of a Muslim South Asian American family
dealing with the impact of 9/11 on their family and
community. "The point of presenting The Domestic
Crusaders on September 11 is to include Muslim Americans
in our national day of mourning," said the producer, Mr.
Reed. "They have suffered along with everyone else, and in
unique ways." The play chronicles cultural, political, and
religious conflicts of a fictional Muslim South Asian American
family living in post 9/11 America.
Said the director, Ms. Blank, "It is an authentic, revealing
no-holds barred depiction of one day in the life of one
family, composed of six unique members, who convene at
the family home for a birthday celebration. With a
background of 9/11 and the scapegoating of Muslim
Americans, the humor, tensions and sparks fly among the
three generations. The day culminates in an intense family
battle as the 'crusaders' struggle to assert and impose their
respective voices and opinions while still trying to maintain
and understand that unifying thread that makes them part of
the same family, and citizens of the United States of
America." Ms Blank continued, "As an alternative to the
cardboard stereotypes regularly offered in today's world of
marginalizing people, the Patriot Act, andthe belief that if
you look different then you might be a threat, The Domestic
Crusaders is intended to enlighten the public on issues of
multiculturalism, racism, and the need for tolerance in a
changing world."
"The interest generated by September 11 gives us a special,
wonderful opportunity to engage in dialogue and to
understand each other. That's why we felt it was important
to make sure this play was available to our students and the
general public." said Hyon Chu Yi, Director of the MOSAIC
Cross Cultural Center at San Jose State, an agency of the
university created to foster multi-cultural understanding. "We
have significant Muslim American, South Asian American and
Jewish populations at SJSU, and part of our educational
mission is helping them gain sympathy for each other's
points of view. We're proud that we're probably the most
diverse university campus in America, and that young
people today are really interested in being accepting of all
different kinds of people."
The Domestic Crusaders was received with great acclaim in
its 2004 staged readings at Oakland's prestigious Art & Soul
Festival, the Mehran Theater Restaurant in Newark, the Main
Branch Auditorium of the Oakland Public Library, and the
2005 production recently presented at the Thrust Theatre of
Berkeley Repertory Theatre.
"Wajahat Ali is a major new voice in American literature. His
play is to Muslim American theatre what A Raisin in the Sun
is to African American theatre," said Mitch Berman, head of
the Center for Literary Arts, which is co-hosting the event on
the San Jose State campus. "Our mission at CLA is not only
to bring literary stars to San Jose, but to bring attention to
emerging writers who have something new to say."
The author, Mr. Ali, says, "9-11 is an excellent time to
perform this particular piece due to the global, international
memory of a tragic event which has drastically altered the
face of the world. It allows us, as a global community, to
face the repercussions of that fateful day head on,
confronting our fears, doubts, apprehensions, attitudes, and
feelings in an honest, blunt, open manner which doesn't
pander to hypocrisy, political ideologies, or rampant
hysteria. The play gives us a means to understand
themulticultural fabric of the American experience from the
viewpoint of Americans who aren't usually seen as 'your
average American' but live, breathe, sweat, suffer, hope just
as much as any other American."
Who's who in The Domestic Crusaders
Wajahat Ali (Playwright) is a Muslim American of Pakistani
descent who is not a terrorist or a saint. The Domestic
Crusaders is his first play. Born and raised in the San
Francisco Bay Area, he has been writing, producing and
directing plays, films, and sketches since childhood, enlisting
his friends to be actors and crew. He began The Domestic
Crusaders in a writing class taught by Ishmael Reed at the
University of California, Berkeley, in Fall, 2001, and with his
encouragement, transformed the piece into a full length
play. He is currently mapping out a two-part prequel/sequel
of The Domestic Crusaders, in addition to entering his
second year as a law student at the University of California,
Davis.
Carla Blank (Director) She has been involved in the
development of The Domestic Crusaders since its inception,
both as dramaturg and director. She is co-author, with Jody
Roberts, of "Live On Stage!," an anthology of performing
arts techniques and styles available in teacher resource and
student editions (Dale Seymour Publications, a Pearson
education imprint, 1997), and author and editor of the
recently released historical reference, "Rediscovering
America, The Making of Multicultural America,1900-2000,"
Three Rivers Press, a Random House imprint, 2003). Her
current writing project is a timeline of 19th century America.
Ishmael Reed (Producer) is the author of nine novels, six
plays, one opera libretto, six books of poetry, and six books
of essays, and he is the editor of numerous anthologies and
magazines. His collaborations with musicians have resulted
in three CD collections: "Conjure I" and "Conjure II" During
the 2005 Spring semester he was The Lurie Distinguished
Chair in Creative Writing at San Jose State University. He
isalso founder of the Before Columbus Foundation (which
annually presents the American Book Awards) and the
Oakland chapter of PEN. His online literary magazine,
"Konch," can be found at
www.ishmaelreedpub.com
TO PURCHASE TICKETS
Tickets can be ordered online through Ticketmaster, or
purchased at the door. The University Theatre is located on
San Fernando Street at 5th in downtown San Jose, right next
to the new library. Parking is free on weekends in the new
city parking structure at thecorner of 4th and San Fernando.
Tickets are $15 general admission, $10 for students. For
further information, call MOSAIC director Hyon Chu Yi at
(408) 924-6245. Or visit the play's website:
www.domesticcrusaders.com
For more info, visit
www.domesticcrusaders.com
Co-sponsored by San Jose State University MOSAIC Cross
Cultural Center, the Center for Literary Arts, the
Before Columbus Foundation, the SJSU Department of TV,
Radio, Film and Theatre, and the Arts Council Silicon Valley,
and EKTA
for more visit http://www.domesticcrusaders.com