Saturday, February 18, 2006, 1-6pm, 2006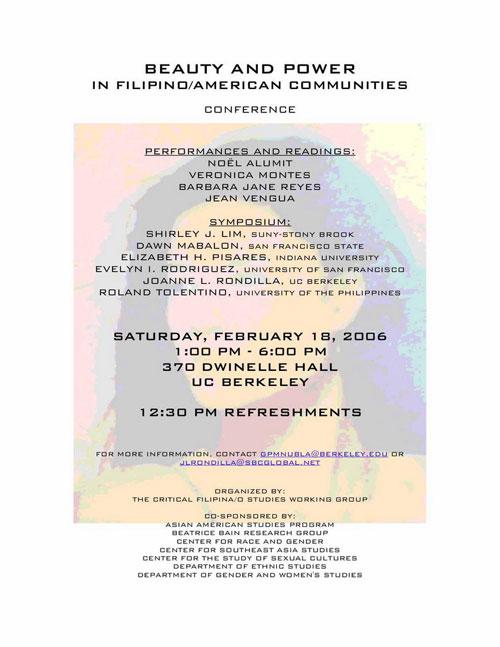 BEAUTY AND POWER IN FILIPINO/AMERICAN COMMUNITIES
CONFERENCE
Saturday, February 18, 2006
1:00 pm - 6:00 pm
370 Dwinelle Hall
UC Berkeley
12:00 pm refreshments
PERFORMANCES AND READINGS
NOËL ALUMIT, excerpts from Master of the (Miss) Universe
VERONICA MONTES, "Beauty Queens"
BARBARA JANE REYES, excerpts from Gravities of Center,
Poeta en San Francisco, and Diwata
JEAN VENGUA GIER, "Dancing in the Social Box"
SYMPOSIUM
SHIRLEY J. LIM, SUNY-STONY BROOK
"'Where Did You Get that Gorgeous Black Ballerina Dress?':
Filipino American Postcolonialism and Modernity through
Beauty"
DAWN BOHULANO MABALON, SAN FRANCISCO STATE
"The Ideal Filipina: Filipina Americans and Queen Contests,
1920s-1950s"
ELIZABETH H. PISARES
"'The Lovely Nowhere': What the Exclusion of Filipina/o
Americans from U.S. Racial Discourse Implies for Issues of
Gender/Sexuality"
EVELYN IBATAN RODRIGUEZ, UNIVERSITY OF SAN
FRANCISCO
"'Malakas at Maganda': Debutante Splendor as an
Instrument of Cultural Resistance and Empowerment for
Filipinos in America"
JOANNE L. RONDILLA, UC BERKELEY
"Avoiding the 'F' word(s): Filipinos and Fat"
ROLANDO B. TOLENTINO, UNIVERSITY OF THE PHILIPPINES
"On Imeldific Beauty"
A meeting with performance artists, writers, poets and
academics, "Beauty and Power in Filipino/American
Communities" examines how Filipino/American communities
are affected by notions of beauty — how are these notions
internalized, embraced and subverted? What does it mean to
talk about beauty in the context of the global circulation of
stereotypes of Filipinos/as — as prostitutes, servants,
domestic workers, caregivers, and exploitable labor? This
one-day conference will include discussions about pageants,
rituals, body type, skin color, etc.
This event is free and open to the public.
CO-SPONSORED BY:
Asian American Studies Program • Beatrice Bain Research
Group on Gender • Center for Race and Gender • Center for
Southeast Asia Studies • Center for the Study of Sexual
Cultures • Department of Ethnic Studies • Department of
Gender and Women's Studies
ORGANIZED BY: The Critical Filipina/o Studies Working
Group
FOR MORE INFORMATION, CONTACT
gpmnubla@berkeley.edu
OR
jlrondilla@sbcglobal.net
.
for more visit http://townsendcenter.berkeley.edu/wg_filipino.shtml