Sunday, June 18, 2006, 9pm, 2006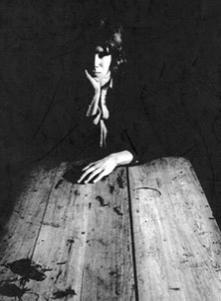 Hanging on a Star
A tribute to Nick Drake
The Red Thread
Ted and Jun of The Music Lovers
Scrabbel
Charles Atlas
The Lonelyhearts
The Invisible Cities
Anamude
Halcyon High
June 18, 2006
Make-Out Room
$10 - 9pm
Poster Artist
Summer Makovkin
The Red Thread have been playing their brand of jangly rock together since around 2002. The
current lineup consists of Jason Lakis, Dan Martin, Mike Schmiedt and Joe O'donnell. They've put
out 3 albums on Badman Recording Co., with the latest coming out in late 2005. "Ship in the Attic,
Birds in the Subway" expands on the sound of the previous two, in that it mixes more of the
energy of their live shows. It also incorporates much of the spaghetti western, guitar-driven pop
songs that make up most of their previous material. Jason recorded and mixed most of the
album at his house (the petting zoo). This way, he had the time and resources to really shape the
recording the way he'd always wanted. Subtle layers of guitars, Rhodes organ and pedal steel act
as flotation devices. They're currently playing and writing material for their 4th full length.
www.theredthread.com/
The Music Lovers: '... it's stately cha-cha rhythms and Vegas-grade musical lexicon - bells,
orchestras, woodwind, extravagently picked guitars - combine with Edwards love-broken lyrics to
suggest a lost Graham Greene novel about seedy Brits shipwrecked in Caesars Palace rather
than Port-au-Prince... immaculate' - WORD Magazine (UK) Dec '05
themusiclovers.net/
Scrabbel: When the revolution comes, there will be those with cellos and those left behind.
Scrabbel, dear comrades, is prepared for battle. This local ensemble takes whimsical jangle-pop
to new fluffy heights with an arsenal of strings, sweetness, and the occasional BART sample.
While the group's harmonies recall the Byrds' finest, Scrabbel achieves more than homage to the
'60s. Gentle waves of trip-hop spill into sunny acoustic guitars, ribbons of clarinet tickle sultry
backbeats, and leader Dan Lee begs unrequited lovers and friends to stay. In the struggle against
boredom, Scrabbel leads the charge with an army of sonic valentines. -NoisePop 2006, Kate
Izquierdo
www.scrabbel.org/
The Lonelyhearts blend angsty folk-rock narratives with spacey keyboard textures. Their sound
recalls the acoustic stylings of Neutral Milk Hotel and the Mountain Goats as well as the synth-
rock of Grandaddy and Earlimart. The bands members, John and Andre, split their time between
Iowa City and the Bay Area.
www.thelonelyhearts.net/V2/
The Invisible Cities is a San Francisco-based band that makes incandescent rough-around-the-
edges sometimes-quiet sometimes-loud rocknroll pop music with wiry guitars and boy/girl
harmonies. They were voted in as Best Indie Pop Band in the 2005 San Francisco Bay Guardian
Readers Poll.
www.theinvisiblecities.com/
Anamude is a San Francisco based songwriter who combines expressive and experimental guitar-
playing with poetic lyrics to create moods that range from the quirkey and off-kilter to the lush
and cinematographic. Bridging influences from classical, country blues, folk and pop music,
Anamude's music is uncompromisingly unique. Her music has been compared to Laurie
Anderson, Kristen Hersh, Cat Power and M. Ward. Others have described Anamude's music as
"guitar folk pop that temptingly hints at a shy PJ Harvey playing from John Fahey's
songbook." (Losing Today,September 2003) Having recorded her first LP "Pentimento" in
Portland, OR with Adam Selzer (Norfolk and Western), which was released through Tucson, AZ
label KEEP Recording last year, Anamude is currently working on her fourth recording project
scheduled for this winter.
anamude.com/
Presented by Playing in Fog
www.playinginfog.com/
for more visit http://playinginfog.com/presents/