Friday, September 29, 2006, 7pm, 2006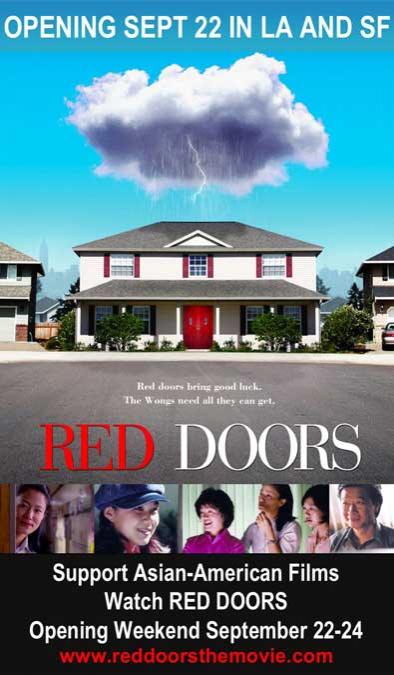 You are cordially invited to attend a special screening of RED DOORS, hosted by actress-producer MIA RIVERTON, on Fri. Sept. 29 at 7:00 pm at the Landmark Clay Theatre (2261 Fillmore St). The screening will be followed by a Q&A discussion with Mia. Afterwards, we'll head over to the Grove for drinks and conversation (2016 Fillmore St).
For tickets and information, please visit:
www.reddoorsthemovie.com
SYNOPSIS: A Chinese-American retiree's sudden disappearance inspires life-changing perspectives in each of his three daughters. RED DOORS has captivated audiences, festival jurors, and film critics en route to winning awards at the Tribeca Film Festival, Cinevegas, and Outfest. Funny and moving, absurd and painfully real, RED DOORS provides a view of the modern American family.
NOW PLAYING:
~ San Francisco ~
The Clay Theatre - 2261 Fillmore Street (Showtimes: 12:25, 2:30, 4:35, 7:00 & 9:10 pm)
*Producer-actress Mia Riverton will be speaking at the 7:00 and 9:10 pm shows on Fri. Sept. 29
~ Los Angeles ~
The Playhouse - 673 E. Colorado Blvd., Pasadena (Showtimes: 12:00, 2:20, 4:45, 7:20 & 9:55 pm)
The Grande - 345 S. Figueroa St., Downtown LA (Showtimes: 1:30, 3:40, 5:50, 8:00, 10:10 pm - no 1:30/3:40 shows Mon-Fri)
for more visit http://www.reddoorsthemovie.com